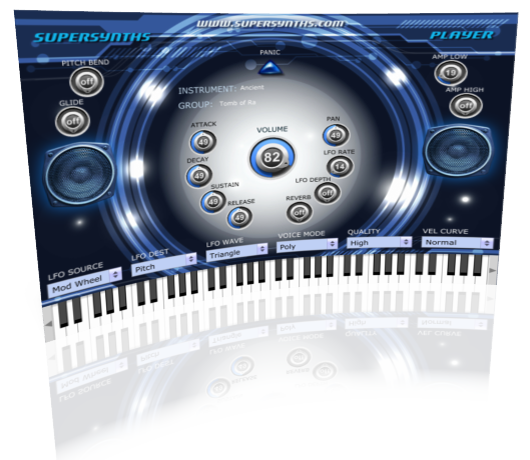 The Supersynths Player is the new rompler for all Supersynths signature sounds and new products. It is sleek, slim on CPU and compatible with almost everything! It can be used on Macs and Pcs. It is available in both 32 bit and 64 bit virtual instruments. One instance of the Supersynths Player can load all Supersynths compatible products. Existing products will be converted to this new format and all new products will also come in SSPlayer format.

The first product in the new Supersynths Player format is Ancient Soundscapes, made up of masterfully crafted textural and tonal instruments which sets the mood for any of your productions. All instruments are looped and most are quite long, allowing for morphing, textured soundscapes to fill in a the perfect music bed for any music or video production.

Klang, is another of our products available in SSPlayer format. It features klangs, hits, strikes, stingers and more. We went to various locations and hit, struck and literally beat the CRAP out of all kinds of metallic containers, barrels, dumpsters, ethnic drums, industrial machinery, stairwells, metal banisters and anything else made out of metal, steel and brass.

Also included are tons of new dry samples of bass drums, snares, toms, cymbals, side sticks and more - sampled from a gorgeous 12-piece Tama acoustic drum set and extra typical and rare cymbals, crashes, rides, gongs, etc. - plenty of bread and butter samples to allow you to create any kind of percussion tracks you wish.

GrooveBlox for Supersynths Player includes a combination of 350 loops in five categories. The library is is filled with top quality looped grooves, drum beats, arpeggiated synths, basslines, guitar parts and all manner of cool and current effects. The loops can be used in your music whether it be rock, pop, house, trance, techno, electro or even industrial. There are also ethnic grooves with asian, latin and middle eastern influence. Finally, the library includes breakdown items such as shakers, timbales, tommies, congas and more - so you can construct your groove or add to it.
COPYRIGHT (C) 2012 MIKE FELKER - SITE DESIGN BY WWW.WORLD-CLASS-MULTIMEDIA.COM


Ancient Soundscapes

Klang for SSPlayer
GrooveBlox for SSPlayer
Purchase Price: $20.00
Sale Price: $10.00
Purchase Price: $30.00
Sale Price: $15.00
Purchase Price: $30.00
Sale Price: $15.00