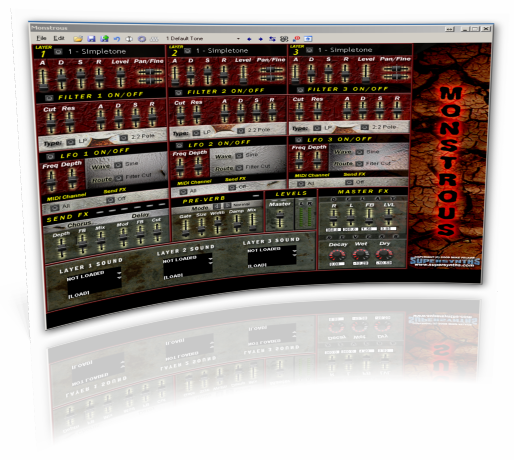 Monstrous v2 is around the corner. From now until it's release you will get the new v2 for FREE!

Monstrous v2 will have almost DOUBLE the amount of core content and a fantastic new look! It may also contain some new synth features as well.

Monstrous v1 has the following features:

- 3 layers that take advantage of the 2.0GB sound library

- MIDI channel selector for each layer

- Amplitude (ADSR) envelope, detune and pan controls per layer

- 3 advanced filters with ADSR control

- 2 Send FX (Chorus and Delay) and Preverb - a reverb-like effect that you can also use as a send effect.
Monstrous Demo uses Stylus RMX for drums. Everything else is Monstrous (including massive percussion hits) Individual preset demos use a background ambient preset (thunderstorm with bells) plus the preset in question. No processing of any kind was used. All effects are from Monstrous.

COPYRIGHT (C) 2012 MIKE FELKER - SITE DESIGN BY WWW.WORLD-CLASS-MULTIMEDIA.COM
- 2 Master effects: a silky smooth reverb and tempo delay

- MIDI automation (for use with your control surface)

- Velocity Response

The 2 gigabyte sound library will quickly have you creating scary atmospheres and haunting textures, perfect for science fiction scenes, horror flicks, moody atmospherics or just to have some fun with friends and family. However, this instrument is no joke. It is a serious tool for creating music of all types.

Here is a quick rundown of what you get:

From howling phantasms to children screaming and ghostly breathing to things that definitely go bump in the night, the vocal section has plenty of cool material to get your macabre juices flowing. And for your composing pleasure, a nice vocal choir is thrown in as well.

Solo trumpets, brass sections, modelled brass strikes and chalkboard screeching crescendos; there's some kind of brass for all tastes and palletes.

From the beautiful to the horrific, Monstrous' strings are incredible. You get string sections, evil string effects, solo instruments and off-note modelled strings that bring another dimension to your productions.

Pianos, organs and keys allow you to add evil passages and creepy notes. I've included a nice selection of weird and zany keyboards as well as a sweet grand piano and vibes that sound almost like a xylophone.

Plucked instruments in there too - like a beautifully haunting six string guitar, viola plucks and more.

Basslines are also represented. You get booming and rumbling sounds that can shake any room. There are plenty of looped generators and effects that have incredible bass tones. Brass bass and string bass add that orchestral element. Finally, Acoustic and analog bass round out this section.

How about some massive percussion, creepy bells, cathedral chimes and all kinds of large-scale hits and strikes? Yep, that's in Monsterous, too.

Lastly, there's some really appropriate sound effects. You get electrical arcs, tesla zaps, thunderstorms, creaky doors, slams, laughs, evil phrases, monsters and much more
Purchase Price: $40.00
Sale Price: $20.00